Tribal Tour and Safari to Ethiopian Great Rift Valley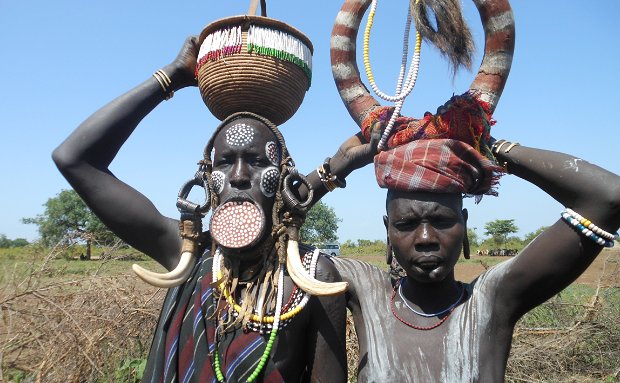 The Omo Valley in southern of Ethiopia is home to a fascinating range of distinct tribal groups, isolated from the rest of the world for centuries and still very much following their own cultures and customs. On this trip we set off from Addis Ababa using High roof Minibus transport to explore the Southern Omo Valley of Ethiopia, stopping at local markets and visiting villages, driving past the lakes of Africa's Great Rift Valley and looking for the wealth of wildlife that this little-explored region contains.
At each step we explore the wonderful culture of the Hamer, Mursi, Tsemay,Bena, Konso and other tribes by taking part in colorful ceremonies and celebrations, witnessing their everyday life, and enjoying traditional music and dance.
Itinerary
Land at Bole International Airport, our Staff will meet you at the checkout point to transfer to chosen hotel.
This morning after Breakfast head to Arbaminch via the Hosahina Road, stopping for a sightseeing tour of the UNESCO World Heritage Site Tiya – an archeological site of ancient Ethiopians. After lunch, the drive continues through the Wolayta farmlands, with views of the lush green hills and valleys. We will arrive late in the afternoon at Arbaminch - meaning 'Forty Springs' in Amharic. Arbaminch takes its name from the bubbling streams that cover the low-lying forest, occupying the flats of the town. 
Overnight at Paradise Lodge or similar
Morning after breakfast refreshing boat trip on Lake Chamo, where crocodile sunbath on the shore and hippos cool themselves in the water Birdlife is abundant here including weavers, sunbirds, waxbills and colonies of pelicans then we drive to Turmi en route visit Konso. Konso a place where a pagan society used to live The Konso erect eerie wooden totems replete with phallic symbols over the graves of the dead and have numerous cults based around the breeding and veneration of serpents. The cornerstone of Konso culture, however, is a highly specialized and successful agricultural economy that, through terracing buttressed with stone, enable these people to extract a productive living from the none-too-fertile hills and valleys that surround them. 
Also, visit Arbore village. The Arbore are a group of about 4000 people and subsist as agro pastoralists. Their most important possession is their cattle. Their agriculture (maize and sorghum) which together with animal husbandry is vital for their subsistence is maintained by an elaborate irrigation system alongside the River Weyto. The Arbore possess detailed knowledge of botanical species, distinguishing between 130 different kinds of sorghum.
An excellent day to meet the people, take photographs with them and learn of a culture that has had very little outside influence. Later afternoon arrive in Turmi for your overnight.
Overnight Buska Lodge or similar
Early morning drive to the direction of Turmi. En route visit the Murulle area to the Karo people (60 km Excursion). Here travel to the rugged Murulle region on the banks of the Omo River; you may view some wildlife such as antelopes and raptors overhead.  Here you will be introduced to the Karo tribe's people who are experts in body painting, using clays and vegetable pigments to trace fantastic patterns on their faces and the rest of their body. Karo men also sculpt and shave their hair into extravagant shapes, with special ochre "caps" of hair usually containing several ostrich feathers. 
Continue on to eco omo lodge or similar 
Morning excursion to the Mago National Park, the Mago National Park is located on the eastern bank of the Omo River and ranges in altitude from 450 to 2,528 meters above sea level. We tour the park to view wild life and then continue on to a Mursi village to visit and appreciate the very attractive culture of Mursi tribe. They are renowned for the strange custom followed by their women who, on reaching maturity, have their lower lips slit and circular clay discs inserted. Then drive directly to Arbaminch with several stops on the way to see some tribes and take a photo as well.
Morning drive to langano via Dorze village, The Dorze tribe and their village, famed for its beehive-shaped houses. The Dorze people are expert weavers and weaving is a primary profession for many Dorze. They are also farmers and use ingenious terracing of the mountainside to prevent soil erosion. Around their huts the Dorze plant gardens with vegetables, spices, tobacco and enset (false-banana or musa ensete). En route visit the tribal people of Alaba who are noted for their beautifully painted houses, Wolita, known for their cultivation of Enset or False Banana, who are renowned for their huge huts and colorful cotton clothes, We stop in Sodo for lunch, and then continue on to the Abiyata Shalla National Park, where we visit the two namesake lakes; including the hot Springs at Shalla and the flamingos at Abiyata. Proceed to the Sabana Lodge on the shore of Lake Langano. 
After leisurely morning and breakfast we start our drive to Addis Ababa, stopping at Lake Ziway to view birdlife, and then continuing on to Addis. In the evening, we celebrate the trip with a farewell dinner in one of the traditional Ethiopian restaurants, with dances from different ethnic groups. Transfer to the airport for departure.